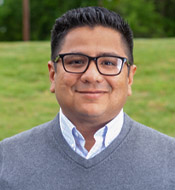 Milton Chicas
Health & Safety Director
Milton Chicas, Director of Safety and Health for Johnson's Roofing Services, Inc., is a dynamic and experienced professional with a diverse background in industrial construction, risk management, health and safety, and hands-on safety applications. Since joining Johnson's Roofing Services, Inc., Milton has developed a comprehensive plan to ensure growth and instill a culture of continuous improvement regarding risk management and safety.
Milton is responsible for the development and implementation of a Risk Management strategic plan as well as safety and health systems tailored to fit the needs of Johnson's Roofing projects. He is a superb facilitator of safety topics combining real-life examples and passion for the trade. He is a dedicated professional who delivers thoroughly researched and proven management safety concepts to his audience in both English and Spanish.
Milton is also called upon as a subject matter expert to advise other organizations and subcontractors
On a professional level, Milton qualifies as a U.S. Army Corps of Engineers certified CQM, NAV/FAC Issuing authority, EM-385-1-1, 49 CFR Hazardous Materials Instructor, 29 CFR 1926 outreach instructor, North Carolina Department of Labor – Journeyman Craftsman, United States Department of Labor – Journeyman Craftsman, North Carolina Department of Labor – Master Craftsman, Construction Supervision Management and NCCER Construction Site Safety Master.
In addition, Milton holds a bachelor's degree in Civil Engineering and a master's degree in International Business Administration from Gardner Webb University.
In his spare time, Milton enjoys spending time with his family and building computers.